A rhythmical and delicious couple dance which has sprung out of the Dominican Republic in the Caribbean but has changed a lot over several rounds since it spread to the rest of the world. Today you talk about the three Bachata styles: Bachata Fusion, Bachata Sensual or the original Dominican Bachata. The characteristic about Bachata in general is the soft hip and body movements.
Bachata was up until some years ago the little sister of Salsa. Before it was primarily Salsa that was danced and played at the dancefloors, and Bachata was a romantic "moment of breathing" between the faster Salsa tracks. After the Bachata Fusion and especially after the Bachata Sensual styles developed, Bachata has exploded worldwide and has now become super popular among the Danish population. The dance is full of life, presence, sensuality, romance and musicality.
Bachata changes between dancing in open positions, to a little closer positions to really close positions with your dance partner.
When you dance Bachata at Salsabine Dance Studio we start on a beginner level to teach you the fundamentals of the dance patterns (some basic turns and steps of Bachata Fusion and the dance patterns and leads/positioning of Bachata Sensual) and cool combinations in open and partly closed positions so you can dance Bachata with anyone on a social dancefloor. Gradually at the intermediate levels you get introduced to the more close and sensual moves when you are more familiar with the dance, with each other and when you have a better understanding of the right techniques.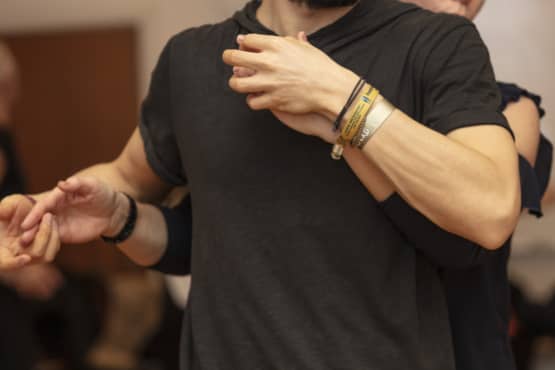 Bachata Sensual has been developed in Cadiz (Andalucía) in the south of Spain by Korke & Judith. That is why most of the professional Bachata Sensual dancers come from Andalucía. In Bachata Sensual the leader chooses to change positions with the follower in open, dynamic steps/combinations and to lead in circular patterns and mix it with moving into close dance positions and body movements. The dance is led by a good frame when in close position and with a good tension in the fingers in more open combinations. You play with rhythm changes in steps and body movements. Bachata Sensual is spiced up with body movements like body-rolls, waves, head-rolls, hip-rolls and isolations. Elements are borrowed from the dances: Zouk, Kizomba and Salsa (Crossbody).